Games can significantly enhance teaching effectiveness, acting as dynamic tools for scaffolding in game-based education. In this context, James Paul Gee's 13 principles of proficient learning resonate deeply. His focus on systemic thinking and model-based reasoning dovetails perfectly with the foundational ethos of our critical action game framework. Critical Action Games are one of five pedagogical approaches outlined within the Critical Action Learning Exchange (CALE), along with Storytelling, Critical Making, Community-Engaged Inquiry, and Arts-Based Critical Action (Carvalho et al., 2022).  
For years, educators have delved into the potential of games as immersive learning environments, seeking to engage students in deep exploration and fostering a mindset geared towards inquiry (Wilkinson, 2016; Djaouti et al., 2011). Building on this foundation, we have crafted the Critical Action Game for the CALE community. This game immerses students in an environment that promotes critical thinking and teamwork. Within the game, Non-Player Characters (NPCs) guide students, familiarizing them with the game's world (Davies, L., 2008; Antle et al., 2014).
The game's core purpose is more than just entertainment; it is about equipping students with critical 21st-century skills and fostering a sense of confidence when navigating uncertain and ambiguous situations (Cremin, 2006; Merrotsy, 2013; Damşa et al., 2010; Papacharissi, 2011). Drawing inspiration from the Games for Learning (G4L) paradigm (Gee, 2005; Squire, 2006), the Critical Action Game seamlessly blends critical thought, self-awareness, and integration of academic content within an interactive mixed-reality setting.
Strategies for Critical Action Games
In the Critical Action Game approach, teachers and scholars can use multiple ways or strategies to engage students in the 'Playing' process that is socially relevant, personally significant, and change-oriented. Some strategies include:
"Playing to Be Part of a  Community" – Within the Critical Action Game's framework, students engage with pressing global challenges like social inequality, diminishing civil rights, sustainable issues, and public health threats… This immersive approach prompts them to identify and address significant hurdles. Together, they brainstorm, develop narratives, and create symbolic artifacts that embody potential solutions.

"Playing to Celebrate Differences" – Engaging in group missions, students tap into the diverse knowledge and skills they have garnered from subjects such as Science, Technology, Engineering, Arts, and Mathematics(STEAM). They also weave personal experiences from their families, local community travels, and resident experiences in different nations. This includes specialized talents like gardening, construction, oral storytelling, entrupunueralship, and traditional craftsmanship from multicultural backgrounds. 

"Playing to Shape the Future" – Students take on generative missions through co-creation tasks: focusing on expanding or altering the game's setting, artifacts, and characters. While addressing pre-existing challenges, they are motivated to recognize new complexities within the game universe. They do not just play; they contribute to the game's evolution, curating innovative missions for the next wave of players.
Throught the three circles, students are not only taking on a hero's journey as a valuable member of a community, but they are also shaping their identity by actively choosing roles and contributing to a team; they also reflect on their own gameplay experience and passed on the lesson learned and opening up new conversations for students that after them. 
How do Games engage Critical Action?
Drawing inspiration from Alternate Reality Games (ARGs), such as Evoke, we have crafted a game design that seamlessly merges the real-world experience with the rich depth of the game's narrative (McGonigal, 2011; Williams-Pierce, 2016). In this effort, CALE's Critical Action Game employs Moher's (2006) Embedded Phenomenon (EP) approach, weaving the game narrative into the tangible realm of the classroom. This approach spurs participants towards deep reflection and fosters collaborative conversations.
Our approach is anchored in the tenets of critical pedagogy (Giroux, 2020) and the ethos of learning communities. Echoing Freire's (2020) sentiments, the objective of education should be to equip students with the ability to navigate and reshape an unpredictable or inequitable future. By immersing students in critical exploration within a game's dystopian setting, we empower them to develop insights about real-world challenges like societal inequality, media manipulation, or climate shifts. We have adopted the learning community framework (Slotta et al., 2018), where the classroom unites in activities, celebrating the collective identity and leveraging each member's diverse skills and backgrounds. The Knowledge Community and Inquiry (KCI) model integrates students' collective knowledge creation with structured inquiry activities (Hobri et al., 2018; Amundrud et al., 2021), guiding the design of curricula where students collaboratively build a shared knowledge foundation to aid subsequent explorative tasks.
By participating in serious learning games, students must research, allocate assets, collaborate, analyze evidence, articulate ideas, make impactful choices, and beyond. Artifacts crafted by students are presented within this learning ecosystem, revealing how FoA integrates personal relevance into their playful endeavors. Our endeavors pave the way for a more inclusive and accessible game-based learning milieu, laying the groundwork for more explorations around learner interactions, tangible experiences, critical creation, and more.
We envision our critical action games as catalysts, engaging students in profound tasks and reflections concerning the themes present in FoA and their tangible realities. Such interactions can cultivate a discerning lens on many topics, enabling students to assume stances and develop profound comprehension. The FoA model also adopts a mixed-reality strategy, enriching the physical classroom with layers of augmented narratives, thus allowing students to immerse themselves in a compelling story within the bounds of their classroom (Brown & Campione, 1996; Collins & Bielaczyc, 2006; Slotta et al., 2018; Hobri et al., 2018)."
What is required from teachers: How can we teach using Critical Action Games?
Teachers need to give up some of the control of the classroom. By stepping away from the center of the class and letting students take over the game. It is difficult for teachers to free themselves from being the sole sources of knowledge and authority in the classroom.  Critical Action Game can be helpful in your teaching if: 
You have an interest in playing games or making games. 

You want your students to make personal connections with essential but abstract ideas. 

You want your students to engage in critical thinking and express their viewpoints about issues on their minds.

You have a class focused on co-creation, which would benefit from community-based interactions (eg. Co-imagining and co-writing in English or creative writing courses;  co-designing in visual arts or media classrooms; creating objects or artifacts that support science learning; or need exciting use cases to engage students for engineering design)

Your discipline is focused on 21st-century skills  (e.g., collaboration, argumentation, system thinning, critical thinking…)

You are interested in teaching to make a social impact (STEM project, Social Enturperunership, Politics, Social Studies, Artivism, Public Art…)

You are interested in implementing Tech into your classroom ( e.g., A.I. Chatbots, other game-based classroom management systems) 
Some Examples of Critical Action Games
Fall of Artica ( FoA Game) — ISLS 2023 tech innovation award 
URL: https://drive.google.com/file/d/1pMRpVYJ4dlTToucl7_UhJ28YdySgwhwB/view?usp=sharing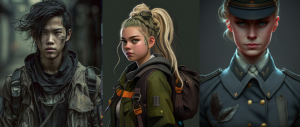 AI Chatbots for FoA NPCs
Fall of Artica (FOA) is a Critical Action Game set in a dystopian world that engages students to think critically and build media literacy through collective (i.e., whole class) inquiry within the dystopian context. The FoA game employed AI-Chatbots as Non-Player Characters, allowing students to converse naturally with FoA citizens through a "portal into their dystopian world." The NPCS allow students to uncover the game narrative and receive clues and quests supporting their broader inquiry arc. This paper describes our initial application of these NPCs in an 11th-grade visual arts curriculum where students construct visual representations of the dystopian context, focusing on settings, characters, and artifacts.